S K Y L I N E | Organizing Movement(s)
Design justice, energy transition, questioning the corridor, and literally moving a building.
Issue 76. Find yourself moved by what you read? Subscribe to read more in print.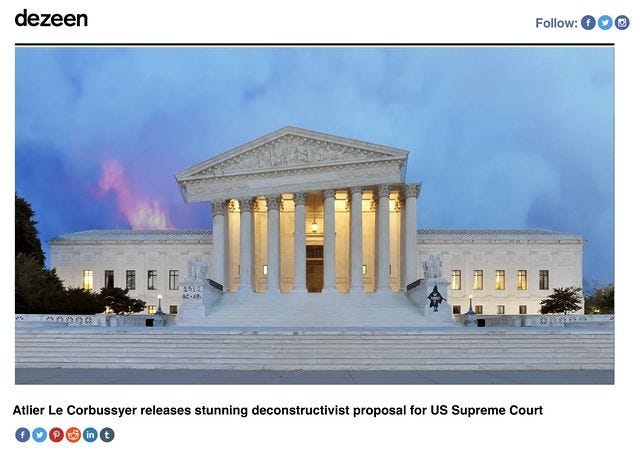 1,805,157 square miles to 2,000,200 square miles. These two acreages are the amounts of land in the United States and its territories where—after the overturn of Roe v. Wade by the Supreme Court's ruling in Dobbs v. Jackson Women's Health Organization—abortion will be protected in some form (the former) or unprotected, likely outlawed, or already illegal (the latter), according to the Center for Reproductive Rights. That former area is about 47% of the nation's land, while the latter is 53%, with a difference between them a little less than the size of Texas. 156,439,105 people live in the former area (or 48% of the population) while 167,622,599 people live in the latter (53% of the population), with a difference about equal to the population of Arizona.
A division like this is but one rudimentary (and over-simplified) way that laws and policies act on spaces, and the people who live in and move between them. In the next issue of Skyline, we'll present an interview with architect and professor Lori Brown, FAIA, author of Contested Spaces: Abortion Clinics, Women Shelters and Hospitals, about her work with the Jackson Women's Health Organization clinic in Mississippi and the complex ways the law acts on people through architecture, specifically looking to reproductive justice. 
This week, four dispatches report on events to organize movements (two for social change, one for typological change, and one for physical motion). Collective social actions are instrumental to any fight for justice, a necessary precondition for any amount of change. Read on for how space-workers are getting organized, and then join in.
— Nicholas Raap
---
DISPATCHES

6/23: Hating on Hallways?
Cancel the Corridor, at 450 Warren Street
GOWANUS — Prompted by NYRA's NICOLAS KEMPER over whether to "cancel" the double-loaded corridor, architects, developers, and researchers convened in person and on Zoom to discuss alternative housing paradigms.

Larch Lab's MICHAEL ELIASON highlighted the example of a European "point access block" model, rarely permissible under U.S. building codes, in which apartments clustered around a single-access stair accommodate diverse floor plans and energy-efficient cross-ventilation. SO-IL's FLORIAN IDENBURG described his work designing housing with outdoor circulation, whether as part of a low-cost development in Leon, Mexico, or within the recently completed 450 Warren Street condominium in Brooklyn, where in-person portions of the event were held, limited in attendance by the occupancy of its top-floor unit.

A consensus emerged that corridors could be positively reimagined; moderator VIVIAN LOFTNESS summarized that "this crowd wants to celebrate the corridor, not cancel it." Similarly, the 450 Warren Street developer, SAM ALISON-MAYNE of Tankhouse, marketed the building's open-air corridors as a new type of shared amenity space worth investing in. However, when asked about potential social divisions produced by the building's luxurious residential program, he acknowledged moments where its design also had to grapple with "the truth that doors exist."

— Chenoe Hart 

6/25: "If everyone does a little…"
Design as Protest (DAP) National Call
ZOOM (New Orleans/New York) — "There is something we at DAP like to say: if everyone does a little, no one has to do a lot," urban designer ALEXA GONZALEZ noted during last Saturday's Design as Protest National Call. That sentiment of collective power and responsibility was not lost on the designers, architects, educators, and more who gathered virtually for two hours to discuss the organization's efforts to, as educator and DAP organizer BZ ZHANG put it, "challenge the existing power structure."

The event, which started with heads bobbing in webcam boxes to Beyoncé's ostensibly anti-establishment anthem Break My Soul, kicked off with a session led by architect TAYLOR HOLLOWAY. Following a prompt to add "practices of self, community, and organizing care" in the chat, presentations from A.L. HU, FAUZIA KHANANI, SOPHIE CHIEN, and other organizers offered testimonials and experiences tied to DAP's efforts to organize grassroots community projects across North America. In a breakout session, co-organizer SUMANT KRISHNA stressed how important it is to connect and communicate with BIPOC youth using "co-design tools," such as public design participation, youth workshops and more—a sentiment shared by architect MARWA AL-SAQQAR in her presentation.Plans for a monthly national call, expanded public meetings, regular BIPOC meetings, and strategies to bring in like-minded organizations were pledged. Then, Collaqate design principal BRYAN C. LEE JR. concluded with a message of hope: he played Tracy Chapman's Talkin' Bout a Revolution, hoping to inspire everyone in the room to do a little more.

 — Ekam Singh

6/27: "Transition is Inevitable."
What is a just transition for the building sector? An open meeting of the Architecture Lobby's Green New Deal Working Group, at citygroup
CHINATOWN — Inside CITYGROUP's sweltering, unconditioned gallery, ELISA ITURBE led participants in a folding tutorial. Following her lead, we turned the printed sheets into pocket-sized pamphlets, whose contents (and lack thereof) lent it a subversive, yet incomplete character. Its pages began half empty; together, we filled it in. The ARCHITECTURE LOBBY's Green New Deal (GND) working group has been engaging with legislation, legislators, and broad histories of labor organization to bring the profession closer to a just energy transition. Taking steps towards veto power, collectivity, and a new building paradigm for architects – one that involves making less – was our agenda. A quote from the Climate Justice Alliance—"Transition is inevitable. Justice is not."—grounded the group in its urgency. So did the phrase "We are fossil fuel workers," a verbal admittance that architects are just as implicated as staffers at BP or Shell. But aiming for a future of regeneration, not extraction, is how the GND group is starting to redefine struggles in the design professions as worker struggles. What if you were passed the pamphlet over the cubicle wall? What if it made its way into your pencil case? What would you as a worker need to know? Monday's open-format meeting let in an unprecedented number of new voices committed to sketching out what refusal looks like.

— Emily Conklin

6/30:  "It's about a seven-minute process…if we don't stop."
Nesting of The Shed.
HUDSON YARDS — "Stop! Stop! No one touch anything!" the voice rang out from a worker's walkie. This was but a few minutes into the "nesting" of The Shed's outer shell, turning the enclosed performance space into an outdoor plaza (dubbed the McCourt) in preparation for the institution's summer event series. A crew of hard-hatted supervisors stalked each of the 6′-diameter steel wheels as workmen emptied cans of lubricant onto the slow-spinning discs. Before the crowd knew it, the lurching building had resumed its crawl.

While only supposed to take around seven minutes—according to a live-streaming staff member I can only assume was the social media manager—two stoppages stretched the slow roll to nineteen, not including the previous four hours it took workers to "disconnect" the McCourt from the rest of the building. When the live-streaming staffer learned that, unlike the majority tourist crowd, I had come to Hudson Yards that morning specifically to see this feat of architectural action, he asked if it lived up to my expectations. "Well, it moved," I responded. 

— Nicholas Raap
---
We are having a launch party on July 14. You should come!


We're in the midst of wrapping Issue #30. We will unveil the issue—the last to adhere to the beloved risograph format—at a party on July 14. Join us in celebrating!
---
EYES ON SKYLINE 

In Skyline 75, readers were interested in Rowan Moore's take on the report of "a toxic culture spanning decades" at the Bartlett School of Architecture.  
---
IN THE NEWS

This week,
…the Village Sun covers 100% Affordable 5 WTC…
…friends of the Review, Head Hi, begin their move around the block…

…Obama weighed in on NIMBYISM at the AIA National Conference…
…the same conference where a number of attendees tested positive for COVID…

…Kimberley Dowdell will be AIA's 100th president, and the first Black woman in the role…

…the Sheet Metal, Air, Rail and Transportation Workers Union (SMART) organized a campaign to protest AIA's relationship to the maligned Kingspan…

…RSH+P rebranded as…RSHP…

…Steven Holl's Chapel of St. Ignatius won the AIA's Twenty-Five Year Award…

…Arup will lead the (further) expansion of Penn Station.
---
DATELINE 

Thursday, 7/7
'T' Space Rhinebeck Summer Lecture Series with Nat Oppenheimer
11:00 AM | 'T' Space

Friday, 7/8
Experimental Landings Exhibition Opening & Gallery Talk
3:00 PM | Association of Collegiate Schools of Architecture, Pratt Institute

Duel + Duet with Rachael McCall, Natou Fall
9:00 PM | SCI-Arc
Monday, 7/11
Aging Against the Machine with Emanuel Admassu, Neeraj Bhatia, Todd Levon Brown, Ignacio Galan, Lindsay A. Goldman, Karen Kubey, Annie Ledbury, David Peters
6:30 PM | AIA New York
Thursday, 7/14
New York Reviews Architecture: Issue #30 Launch
7:00 PM | New York Review of Architecture

Our listings are constantly being updated. Check the events page regularly for up-to-date listings and submit events through this link. 
---
LETTER TO THE EDITOR Write us a letter! We'd love to hear your thoughts.  
---
NYRA is a team effort. Our deputy editor is Marianela D'Aprile, our editors-at-large are Carolyn Bailey, Phillip Denny, and Alex Klimoski, and our publisher is Nicolas Kemper. To pitch us an article or ask us a question, write to us at: editor@nyra.nyc. For their support, we would like to thank the Graham Foundation and our issue sponsors, Tod Williams Billie Tsien Architects and Thomas Phifer. To support our contributors and receive the Review by post, subscribe here.